Off Grid Solar PV Service
Off-grid refers to the solar systems that provide electricity from the solar panels without connecting to the local utility grid network.

SaveGeo provides complete off-grid solar energy solutions for both domestic and industrial use. Our team of experts are capable of developing niche customized solutions using intelligent, state-of-the-art technology for high performance and reliability.

We begin with a full energy survey, and consider several factors such as premise design, electrical appliances and their pattern of use, lifestyle of the residents, etc. This enables us to design your off-grid systems considering your energy usage so that you get enough solar panels to generate electricity and enough batteries to store the power.

From a comprehensive range of options, we choose the suitable off-grid solution that fits your unique requirements. With the best in class tools and equipment, we engineer, construct and install your off-grid system. We also take up O & M activities to maintain your system and timely scrutinize to rectify issues that may arise.
How It Works?
Solar PV panels that are roof mounted or placed anywhere else in the premise receive energy from the Sun and convert it to DC electricity. This DC electricity is then converted to AC electricity by solar inverters. A main switchboard takes the AC from the inverter to power your home. Any surplus power is sent back to the battery storage with the help of a battery inverter. A battery inverter is a 2-way device that converts surplus electricity to DC and stores it in the battery, or it converts DC into AC to power the house.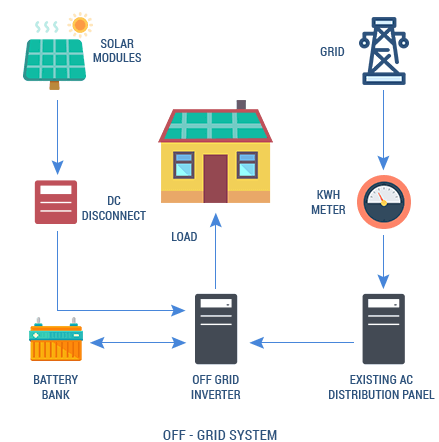 Why Off Grid Rooftop Solutions?